FOR IMMEDIATE RELEASE
January 11, 2016
Sunice Reception at 2016 PGA Show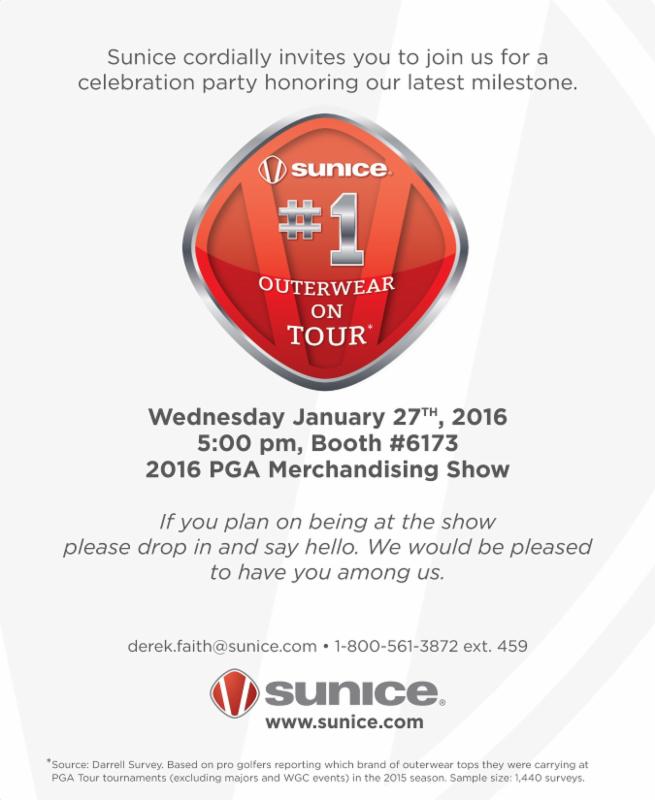 Please contact Mary Beth Lacy at mb@mblacy.com or (760) 346-6942 for more information.
The Sunice Promise
We are passionate "rain-or-shine" golfers whose mission is developing stylish clothing to keep you comfortable on the course — no matter what Mother Nature dishes out.  Our apparel is crafted with meticulous attention to detail, from our selection of cutting-edge fabrics, to our ergonomic and innovative, golfer-specific features.
About Sunice
Sunice is a leading designer, marketer and distributor of outerwear, apparel and accessories for golf and snow activities. Through advanced technologies, lightweight and quiet fabrics, advanced manufacturing methods, Sunice delivers 'Freedom of Movement' into every product and has become the brand of choice by uncompromising professional golfers and ski enthusiasts around the world.
For more information contact Mary Beth Lacy at: