26 Aug 2012 | No Comments | posted by MBLacy | in Miura Golf
Stephen Pizinger, a contributing writer for GolfWRX, posted his review of the Miura – KM-007 putter and included many great photos that he took of the putter for his feature.
GolfWRX is a major golf website that is read on a monthly basis by nearly 1 million golf enthusiasts.  Click on the link below for the feature:
http://www.golfwrx.com/forums/topic/718313-miura-golf-km-007-lots-of-spy-zinger-pics/
Product review: Miura Golf KM-007, by Stephen Pizinger
(Disclaimer: I have wanted this putter since "Pitbull's review a while back!)
A few months ago, I discovered Miura Golf was set to release the KM-007 to retail.  Shortly thereafter, I received a press release stating it was set to arrive this August.  I have played this shape putter for the better part of the last three seasons.  There is just something about this shape that suits my eye at address.  Putt after putt, I believe I have played my best rounds with this shape putter in the bag.  When I saw Miura was adopting this mallet design to add to their line, I knew I had to have it in the bag.  If you have ever had the chance to play a Miura product, you know the feel of their forgings are very soft and consistent.  This was one of my most anticipated pieces of equipment to date, and I was looking forward to giving the KM-007 a roll.
The KM-007 is the fourth addition to the Miura Golf putter line, designed by the company's founder and chief designer, Katsuhiro Mirua.  When I first held this putter out of the box, I said aloud, this is the most beautiful putter I have ever seen.  A couple things that are readily apparent is what the putter does not have: stamping or distracting logos on the face or cavity.  Rather, you are presented with a perfectly milled face and blank cavity, in the muted carbon steel with a nickel/chrome finish.  It's almost as if Mr. Miura wanted the shape and quality of the forging to speak for itself representing the Muira brand not with a logo, but in the totality of this forged piece of art.  The Miura Golf 1957 series logo is discreetly placed with class on the sole of the putter.
According to Miura Golf, this offering begins with a "billet of the finest quality low carbon steel."  The head is forged into it's proper raw shape, then CNC milled to perfection.
At address, looking down upon this head, there is a single sight line in the cavity behind the face.  This sightline is framed within a carved out portion of the cavity aiding in alignment as well.  The blade, graduated step pattern into the mallet, and neck, feature distinct and precise squared off lines.  The face seemed to be slightly deeper and measured 1" from the sole to top line, and 3 3/4" from toe to heel.  The neck is positioned with minimal offset and is set with a seamless transition into the shaft.  As previously mentioned, the low-carbon steel head with a nickel/chrome finish gives off a non-glare, dark grey appearance.  The head weighs 360g and is set to a 72 degree lie with 4 degrees of loft.  The putter is 34" long and has a Lamkin 3GEN red/black grip with the Miura Golf logo.
On course, the legendary feel of a Miura forging was readily apparent.  When solidly struck in the center of this face, the buttery soft feel Miura is known for is felt, yet the sound remains remarkably crisp.  There is a definite distinction in feel on off center contact which will quickly gravitate your stroke back to center in search of that "purity of the strike."  This head inspires a great deal of confidence with it's weight and mass behind the ball.  The unique combination of the precise CNC milling, low-carbon steel, and the feel of close-grain forging, reveal a special putter that quickly earned a spot in my bag.  If you prefer this shape, you have to give the KM-007 a roll.
Below are some photographs and a brief video I took of the putter…enjoy!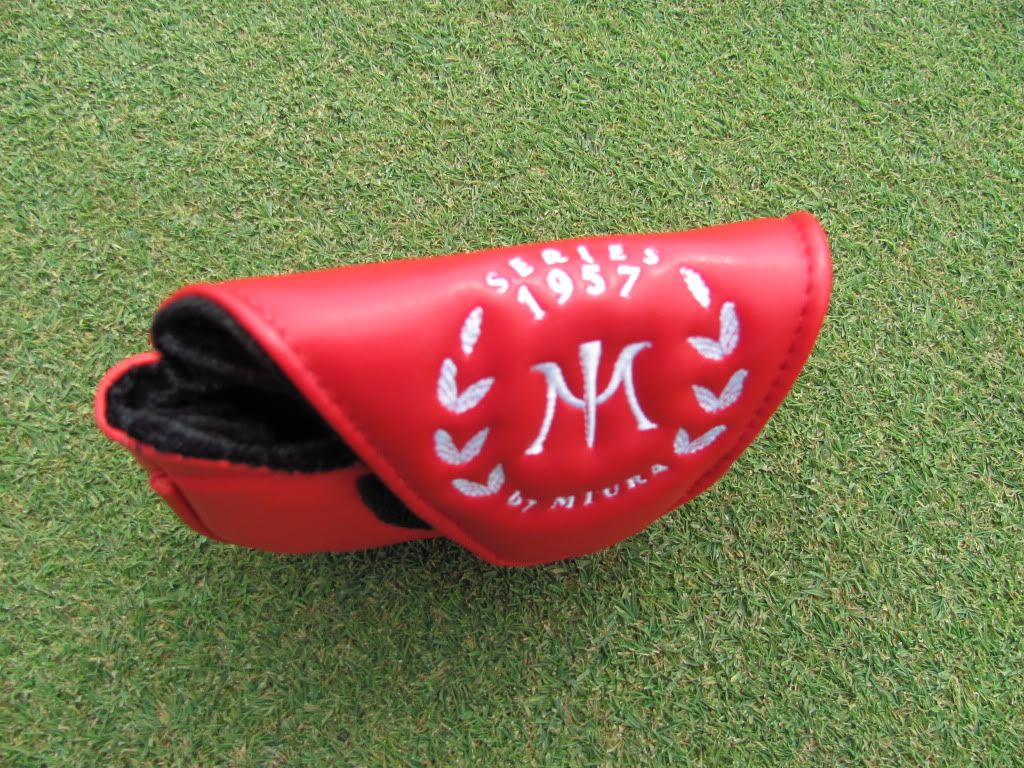 13 Feb 2012 | No Comments | posted by MBLacy | in AUR, Current Clients
Golf writer, Stephen Pizinger, posted an excellent review of on AUR Golf Apparel on GolfWRX.com.
A | U | R Golf – (All That You Are)
I placed an order for some apparel this off season and wanted to share yet another option for you guys along with some photos.  I was really pleased with the quality fabric from A | U | R, along with their fit and finish.
The A | U | R collection hits on 3 main initiatives, namely, continued focus on their Aware Collection, with the addition of a cotton blend aware fabric to the mix. They have continued focus on fashion plaid bottoms for both mens and ladies as well as improving the overall quality and look of their sweater category
A | U | R has 3 distinct categories.  Starting with the A | U | R Active Collection (Seen in my green polo below), which is their performance  designs. This category features their polyester double-knit Dri-Max. These polos feature the stretch of Spandex, a soft, supple handfeel and a lightweight drape that makes it ideal for golf.  Synthetic fibres create a strong, crease resistant fabric that is quick drying and maintains it's shape.  This shirt fit really true to size with the perfect length sleeves riding just above the elbow. Next is the A | U | R Authentic category.  This collection offers traditional golf inspired assortment of sweaters, vests, pants and shorts.  Classic colors of Black, Taupe, Navy and Charcoal. Finally A | U | R Aware is a category with an attempt to give a little back to the planet utilizing "CarboCool" (Seen in my blue shirts and black slacks).
According to A | U | R: "CarboCool™ fabric contains a blend of Polyester and Bamboo Charcoal. The carbonized bamboo is visual on the inside of this material as a grey tint. The benefits of this fabric include Moisture Wicking and Fast Drying for comfort, as well as Anti-Odor and Added UV Protection for peace of mind. Carbonized Bamboo is environmentally responsible, and offers the same benefits that a chemical finish would without the unnecessary harm to the environment.
The Spring 2012 color palette for men features basic must-haves in a myriad of colors that all merchandise back to the men's fashion collections.  An assortment of cool greys and black mixed with additional bright blasts of color: Flex Blue and Wasabi are the highlight colors for Men. In addition we have added a more traditional Brite Navy and Blue Granite collection for the more conservative golfer. 
For women, distinctive style, fine quality and an aura of sophistication lends itself nicely to a golf collection that is current and on-the-ball.  Fashion driven Urban Garden features bright Peony paired with plaid bottoms featuring our new slim cut plaid Capri. Water Trace features Blue Glass with Black accents to provide a sporty, fun look. Skylight is all about the fashion girl who loves trendy prints. Periwinkle and Navy are the base for this group with a trendy Pucci inspired print."
I am really looking forward to the warmer weather and wearing these on-course this Spring. Enjoy!
Click here to view article on GolfWRX.com, and to view more photos.

17 Jan 2012 | No Comments | posted by MBLacy | in Antigua, Current Clients
Antigua Apparel The perfect golf shirt!
This past fall, I added some of the Antigua Golf collection into the apparel rotation. I've seen some professionals on both the PGA and LPGA tour sporting the shirts and wanted to give them a look. I took the time to write this because I believe I have found what a lot of guys continue to be searching for; the perfect golf shirt. read more…

Categories

Archives